Would you like to make texts accessible in multiple languages and from all points of the theatre?
With Lyri lyrics are visible on smartphones and tablets, perfectly synchronized with the scene.
The app also offers the viewer a navigable mini-site which presents the event, as well as the plot of the show synchronized in real time.
Texts translated in your language
You can read opera libretti in the language you prefer, choosing it between those available for the event. Everyone will no more miss a word.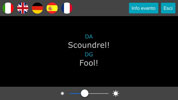 Brightness set to zero
As the show starts, Lyri sets display brightness to zero. The only lights in the room will be those of emergency exits.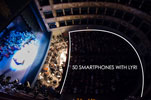 Everything is synchronized
Texts shown on smartphones and tablets displays are synchronized in real time with the opera libretto, thanks to commands given by an operator.